Project Recap Day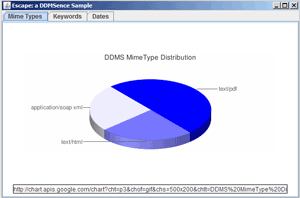 It feels good to have carried a project all the way to a phase where it can be considered "done". I'm always on the lookout for new projects to do, like last summer when I toyed with writing interactive fiction again or December, when I thought I'd finally sit down and learn the Ruby programming language. Most of the projects I start with voracious verve trickle away long before anything tangible is completed.
Among other abandoned projects in my orphaned concepts folder: at least six cancelled games (2 in BASIC, and 3 in Netscape-era JavaScript), 4 chat rooms written in C and CGI (the boring kind, not the Avatar kind), one of which only worked when two people were in it, an endless number of musical compositions, and an ear training program called Auricle.
Back in January, I was searching for a project to do during the cold, snowbound months, and settled on migrating my photo albums to Picasa. I soon realized that it would be much easier than I expected, and started working on DDMSence even while the photo album transition was going on. I wanted a project that would be useful, had a finite problem area to solve, and was a mix of new material to learn and old technologies I already knew.
I have no problems giving up on side projects when they're no longer fun, and I came close a couple times, but soldiered through, even reading about XML in Puerto Rico while lying on the beach. The work finally reached a critical mass of about 80% a couple weeks ago, and I've been doing nothing but that ever since. I'm a decent multitasker, but when I'm really invested in something, I tend to do that one thing to the exclusion of everything else until it's complete -- this is why it's pointless for me to buy new books that just get read in a single day, and why I can watch a whole season of Prison Break in one weekend.
Now that this project has been "released", I'll still work on it regularly for enhancements and bug-fixing, but I can go back to devoting a little more time to this website and personal grooming. I may open the weekend with some outdoors time (cleaning the shed, my car, and weeding the planter boxes) mixed with indoor time (watching Weeds, working on the Paravia Wiki, and writing Musedays).
Speaking of projects, Katie Morton has redesigned her blog as a lifestyle blog, with tips on organization, getting things done, and eating Doritos. Take a look!
GameCrush: Pay to play--with girls
Child vampire hunters sparked comic crackdown
Man flu is no myth
You are currently viewing a single post from the annals of URI! Zone history. The entire URI! Zone is © 1996 - 2023 by Brian Uri!. Please see the About page for further information.